William "Billygoat' Mahoney was a bar-tender before competing on Wipeout. Billygoat had names for everyone. He called Jill, Dixie. He was 44 years old, saying that "The two Older guys are up On here! He competed until he got to the Wipeout zone, but ran out of time.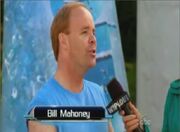 Ad blocker interference detected!
Wikia is a free-to-use site that makes money from advertising. We have a modified experience for viewers using ad blockers

Wikia is not accessible if you've made further modifications. Remove the custom ad blocker rule(s) and the page will load as expected.