Octopushy is the 2nd round that is only appeared in Season 6. It has a clockwise motion so contestants must have to dodge without a wipeout.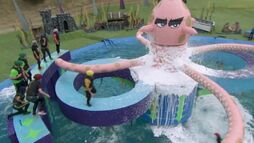 Season 6
Edit
In season 6, Octopushy is the obstacle of the 2nd round in episode 1, 4, 8, 10, 11, 13, 15, and 16. The competitors must go to the giant ring and dodge the octopus arms carefully while trying to get across and also move on to the 3rd round before the Wipeout Zone.
Ad blocker interference detected!
Wikia is a free-to-use site that makes money from advertising. We have a modified experience for viewers using ad blockers

Wikia is not accessible if you've made further modifications. Remove the custom ad blocker rule(s) and the page will load as expected.