Micah Hart appeared in S2E16. He worked at a place with Robotic Animals and Pizza, where he got the name Micah Mouse. He came in with a time of 04:17:7. He made it to The Sweeper round, where Jay Hook said "Someone's gotta fall, and the Sweeper knocked him off. He made it to the Slippery Course. He lost to The Prison Guard, and got eliminated.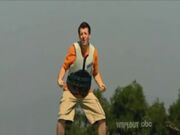 Ad blocker interference detected!
Wikia is a free-to-use site that makes money from advertising. We have a modified experience for viewers using ad blockers

Wikia is not accessible if you've made further modifications. Remove the custom ad blocker rule(s) and the page will load as expected.