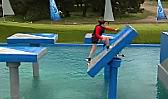 The Collapsing Catwalk was an obstacle featured in the third season, the episode being Ladies Night, an all female episode.
The Collapsing Catwalk had hinges that would tip the whole thing if the person didn't jump far enough, as shown at the right. The person would fall off. This obstacle is similar to a Season 2 Obstacle, Plank In The Face, but the planks had less room to stand on, and the catwalk has more room for the contestants to stand on.
Ad blocker interference detected!
Wikia is a free-to-use site that makes money from advertising. We have a modified experience for viewers using ad blockers

Wikia is not accessible if you've made further modifications. Remove the custom ad blocker rule(s) and the page will load as expected.