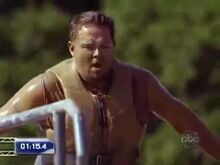 Chris Lekawa is a contestant on WipeOut. He is known for being stuck in the Big Balls between the supports and the balls. He made it to The Sweeper, where he was in the "All Fall Down At Once" where a lot of contestants fell at the same time. He made it to the Dizzy Dummy, before getting eliminated. He was awarded Season 1 "Best Big Ball WipeOut" and was runner up for "Best WipeOut."
Ad blocker interference detected!
Wikia is a free-to-use site that makes money from advertising. We have a modified experience for viewers using ad blockers

Wikia is not accessible if you've made further modifications. Remove the custom ad blocker rule(s) and the page will load as expected.