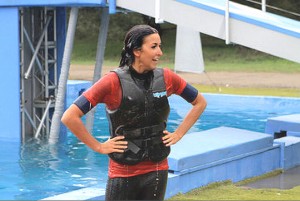 April Groefsma is a contestant on the summer version of wipeout. Her Qualifier time wasn't shown, but she advanced to the Scarosel and placed 3rd on it. She also placed 3rd on the Sack Sweeper, beating out Derrick Hill. On the Wipeout zone, she didn't pass any obstacles, but beat out Joel Jordan by only 35 seconds, becoming the 12th female to win wipeout in history!
Ad blocker interference detected!
Wikia is a free-to-use site that makes money from advertising. We have a modified experience for viewers using ad blockers

Wikia is not accessible if you've made further modifications. Remove the custom ad blocker rule(s) and the page will load as expected.